As a magnificence editor I prefer to suppose that I've a good suggestion of the most recent and biggest facial therapies within the business. I satisfaction myself on with the ability to shortly rattle off suggestions of the place to get the perfect microcurrent raise, hydrating increase, or pore extraction. So after I got here throughout an image of somebody with little gold magnets delicately positioned throughout their face, I knew I wanted to seek out out what it was. Upon additional investigation I got here to study that it was the Synergistic Qi facial and there is just one esthetician at the moment providing it in New York: Madalaina Conti.
The pimples specialist and former nationwide coaching supervisor for Face Health club determined to open up her personal studio centered round what she calls synergistic skincare. In different phrases, her follow is rooted in a holistic strategy to therapies relatively than simply specializing in fast fixes. You'll discover that Conti incorporates microcurrent, radio frequency, peels, and the methods of quantum aesthetics model, Qi Magnificence. "4 years in the past I got here throughout Qi Magnificence in a medical journal examine [exploring] how magnets impact mobile communication and I used to be so fascinated by it," she explains. Whereas sure the 24k gold magnets used within the therapy are very aesthetically pleasing (and are what initially piqued my curiosity), the customizable course of is extraordinarily anti-inflammatory and may help with a spread of considerations in anti-aging, pimples, and rosacea.
A number of weeks in the past, I ventured to Conti's studio in Midtown to expertise the therapy firsthand and ask her precisely how the facial labored. Right here's all the pieces it is advisable know.
What's Qi Magnificence and the way does it work?
Based by Kathy Pedersen in 2006, the rules of Qi Magnificence mix quantum know-how with acupuncture factors to assist deal with and restore pores and skin on a mobile degree. "Cells naturally lose a little bit of communication as they age. So if we will get these cells to perk up and keep in mind the way to perform optimally, the pores and skin goes to behave youthful which might deal with a large number of issues," explains Conti. That is finished by utilizing 24k gold-plated micro magnets and putting them in a strategic sample alongside the pores and skin. The gold itself has calming properties, however Conti explains it's the acupuncture factors and magnetism that work beneath the floor to assist the pores and skin perform optimally.
After cleaning and prepping my pores and skin with a light-weight therapeutic massage, Conti begins to create my very own gold sample. "I nearly use the face as a map of types," she explains. "We're concentrating on totally different factors and creating patterns relying on what the consumer goes by way of." For me that meant concentrating on some superb strains on my brow in addition to addressing redness and puffiness round my eyes and cheeks.
Though the location is personalized per individual, I study that it's going to at all times focus on a number of key acupuncture factors. "All people could have the identical power meridians. For instance, there's three factors that we begin with. There's one between the brows, one on the higher lip, and one on the chin. These are going to be just like the management heart for the matrix. They're very calming factors, as properly, which is why you've got such a soothing expertise," Conti explains. And when she says stress-free expertise, she was not mendacity. I felt so calm I'd e book one other appointment simply to have that second of zen—the added pores and skin advantages had been an added plus.
What are the advantages?
The Synergistic Qi Facial is ideal for many who wish to knock out irritation, depuff, and goal breakouts or superb strains. "The largest factor that I usually discover [post treatment] is a giant discount in redness within the pores and skin," Conti calls out, one thing particularly useful for these with rosacea. Extra advantages embrace discount in water retention, a lift in hydration, and pores trying extra refined.
I arrived for my therapy a bit puffy and really purple since my pores and skin at all times acts up originally of winter. By the tip of the facial I used to be fortunately shocked to see how sculpted my face appeared (particularly alongside my jawline) and the way a lot the redness had receded. As somebody who has pretty delicate pores and skin and is eczema inclined on my face, I typically lean into restorative practices to assist reset and strengthen my barrier. This actually gave me quick satisfaction however my pores and skin continued to remain pretty calm for days following my appointment.
Prime: Earlier than receiving the Qi Magnificence facial; Backside: After receiving the Qi Magnificence facial.
Photograph: Courtesy of Adi Giesey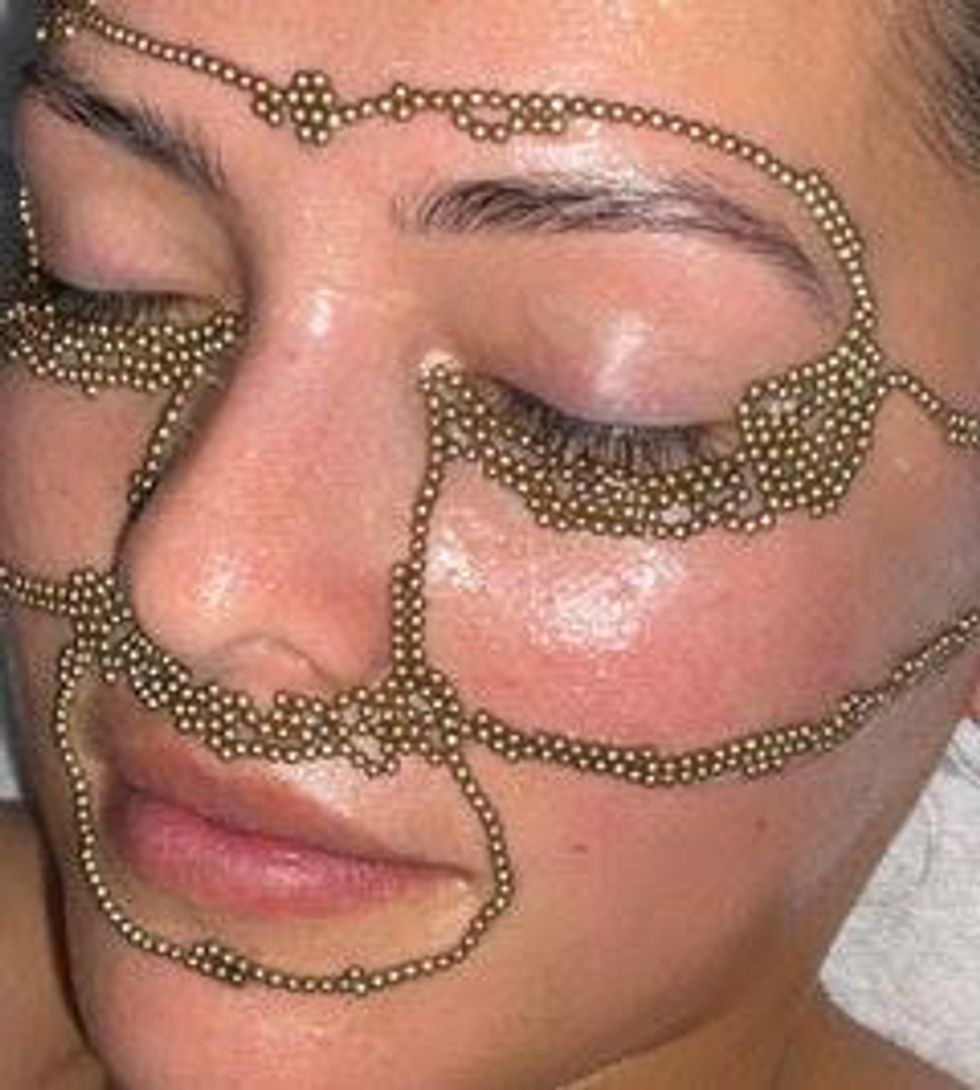 Photograph: Courtesy of Madalaina Conti.
Who can profit from this therapy?
Merely put, nearly everybody can profit from reserving a session. "I positively by no means used to say this calmly, however Qi Magnificence actually is for everybody as a result of it lowers irritation. We are able to additionally regulate the matrix to actually no matter your concern is and no matter your objective is," she explains. The one exceptions can be those that are pregnant since sure acupuncture factors may be contraction factors. As for many who deal with themselves to common injectables, they need to wait at the very least two weeks after getting Botox and at the very least 4 weeks after receiving filler.
How typically must you get a Synergistic Signature Qi Facial?
"Most purchasers are available month-to-month and I really feel like that is at all times an awesome rule of thumb for any type of facial simply to maintain you on monitor," says Conti. "What's nice is that that is very cumulative. So until you go [an extended amount of time] between classes or have a trauma occur to the pores and skin, your outcomes construct upon one another with each therapy."
Qi Magnificence additionally provides residence kits to assist delay the outcomes put up facial. Conti describes them as ear seeds for acupuncture however they arrive in a bigger dimension since these are for the face. She's going to typically assist present a personalized map for purchasers to comply with alongside at residence.
Will Qi Magnificence grow to be a preferred development?
When requested if she thinks Qi Magnificence will decide up in recognition, Conti replied positively. "I simply really feel it in each ounce of me as a result of it simply solves such an enormous downside and everyone can do it as a result of it's so mild," she says. "Particularly dwelling in a loopy polluted metropolis the place our pores and skin is offended and we've got all 4 seasons and it is at all times going by way of adjustments. It is gonna be actually life altering for lots of people and it is positively one thing that I want I had after I was within the depths of my pores and skin state of affairs."
From my private expertise I've to say I agree with Conti. My pores and skin felt glowy, plump, and calm strolling out of her studio. I even seen that I had much less flare ups of irritation within the weeks following. It was refreshing to have somebody who needed to create a private and significant relationship with my pores and skin from the beginning. I'd completely suggest incorporating this into your month-to-month routine or any time that you simply really feel like your pores and skin wants a bit of little bit of TLC.
window.REBELMOUSE_ACTIVE_TASKS_QUEUE.push(function(){
function CL(t,n){const o=new Set([]);document.querySelectorAll(t).forEach(e=>{n(e),o.add(e)});const e=new MutationObserver(()=>{const e=document.querySelectorAll(t);e.forEach(e=>)});e.observe(document.body,{childList:!0,subtree:!0})} CL('.rebellt-item.rebellt-ecommerce',function(el){el.classList.add('hover-effect')})
});
window.REBELMOUSE_ACTIVE_TASKS_QUEUE.push(function(){
var makeMonitor = (getStatus, cb, delay) => { delay = delay || 100; var monitor = () => { var time = +new Date(); var status = getStatus(); if (status) { return cb(status); } else { if (!stopMonitor && +new Date() - time < 30 * 60 * 1000) { monitorId = setTimeout(monitor, delay); } else { cb(false); } } }, cancel = () => { stopMonitor = true; clearInterval(monitorId); }; let monitorId, stopMonitor = false; return { start: monitor, cancel: cancel, }; };
var leftArrowCarrousel = makeMonitor( function () { return document.querySelector( ".shop-sidebar.shop-posts .posts-wrapper .slick-next" ); }, function (res) { res.addEventListener("click", () => { gtag("event", "Left Arrow Click", { event_category: "Shopping Module", event_label: "Previous product at carrousel", }); }); } );
leftArrowCarrousel.start();
var rightArrowCarrousel = makeMonitor( function () { return document.querySelector( ".shop-sidebar.shop-posts .posts-wrapper .slick-prev" ); }, function (res) { res.addEventListener("click", () => { gtag("event", "Right Arrow Click", { event_category: "Shopping Module", event_label: "Next product at carrousel", }); }); } );
rightArrowCarrousel.start();
var buyButton = makeMonitor( function () { return document.querySelectorAll( ".shop-sidebar.shop-posts .posts-wrapper .widget__product-buy-link-btn" ); }, function (res) { for (let button of res) { button.addEventListener("click", () => { gtag("event", "Buy button click", { event_category: "Shopping Module", event_label: `${button["href"]}`, }); }); } } );
buyButton.start();
var imageShopp = makeMonitor( function () { return document.querySelectorAll( ".shop-sidebar.shop-posts .posts-wrapper .widget__head a" ); }, function (res) { for (let image of res) { image.addEventListener("click", () => { gtag("event", "Image click", { event_category: "Shopping Module", event_label: `${image["href"]}`, }); }); } } );
imageShopp.start();
var productTitle = makeMonitor( function () { return document.querySelectorAll( ".shop-sidebar.shop-posts .posts-wrapper .widget__headline .widget__headline-text" ); }, function (res) { for (let product of res) { product.addEventListener("click", () => { gtag("event", "Product title click", { event_category: "Shopping Module", event_label: `${product["href"]}`, }); }); } } );
productTitle.start();
});
window.REBELMOUSE_ACTIVE_TASKS_QUEUE.push(function(){
window.REBELMOUSE_STDLIB.loadExternalScript("https://s.skimresources.com/js/150311X1615657.skimlinks.js", function() {
});
});
window.REBELMOUSE_ACTIVE_TASKS_QUEUE.push(function(){
var mDate = document.querySelector('.current--post .social-date-modified__text'); var cDate = document.querySelector('.current--post .social-date__text');
let m_names = new Array("January", "February", "March", "April", "May", "June", "July", "August", "September", "October", "November", "December");
if(mDate != null) { let modDate = new Date (mDate.textContent); document.querySelector('.current--post .social-date-modified__text').innerText = dateToMDY(modDate);
}
if(cDate != null) { let createDate = new Date (cDate.textContent); document.querySelector('.current--post .social-date__text').innerText = dateToMDY(createDate); }
function dateToMDY(inputDate) { var d = inputDate.getDate(); var m = inputDate.getMonth(); var y = inputDate.getFullYear(); return '' + m_names[m] + ' ' + (d <= 9 ? '' + d : d) + ', ' + y ; } }); window.REBELMOUSE_ACTIVE_TASKS_QUEUE.push(function(){ !function(f,b,e,v,n,t,s){if(f.fbq)return;n=f.fbq=function(){n.callMethod?n.callMethod.apply(n,arguments):n.queue.push(arguments)};if(!f._fbq)f._fbq=n;n.push=n;n.loaded=!0;n.version='2.0';n.queue=[];t=b.createElement(e);t.async=!0;t.src=v;s=b.getElementsByTagName(e)[0];s.parentNode.insertBefore(t,s)}(window, document,'script','https://connect.facebook.net/en_US/fbevents.js');fbq('init', '1248680838922690');fbq('track', 'PageView'); }); window.REBELMOUSE_ACTIVE_TASKS_QUEUE.push(function(){ window.REBELMOUSE_STDLIB.onElementInViewport({ threshold: 400, selector: "video", oneTime: true, onIntersect: function(entry){ var element = entry.target; element.setAttribute("allow","autoplay"); element.loop = true; element.muted = true; element.autoplay = true; element.setAttribute("playsinline","true"); //element.controls = false; element.play(); } }); }); window.REBELMOUSE_ACTIVE_TASKS_QUEUE.push(function(){ let headings = document.evaluate("//p[contains(., 'Want more stories like this?')]", document, null, XPathResult.ANY_TYPE, null ); let thisHeading = headings.iterateNext(); console.log(thisHeading.textContent, 'head changed'); thisHeading.innerHTML = "More From Coveteur"; thisHeading.style.fontFamily= 'Playfair Display'; thisHeading.style.fontSize="24px";
});
window.REBELMOUSE_ACTIVE_TASKS_QUEUE.push(function(){
IcreateElementChangeListener('.shop-posts .widget__headline-text', (el)=>{
el.setAttribute("rel","nofollow");
});
});
window.REBELMOUSE_ACTIVE_TASKS_QUEUE.push(function(){
let video=document.querySelector(".current--post .widget__video"); let image=document.querySelector(".current--post .widget__image") if(video && image) { video.innerHTML=video.querySelector('script[type="video-content"]').innerHTML; video.style.display='block'; image.style.display='none'; }
});
window.REBELMOUSE_ACTIVE_TASKS_QUEUE.push(function(){
window.IcreateElementChangeListener(".body", function (item) { let ecomElelemnts = item.querySelectorAll('.rebellt-ecommerce'); ecomElelemnts.forEach(function(el){ if(el.nextElementSibling && (el.nextElementSibling.classList.contains("listicle--ad-tag")||el.nextElementSibling.classList.contains("htlad-Inline_Article"))){ el.nextElementSibling.remove(); console.log("ad-div removed"); } if(el.querySelector(".rebellt-ecommerce--vendor")){ el.classList.add('venndor-product') } if(el.previousElementSibling.classList.contains("listicle--ad-tag")||el.previousElementSibling.classList.contains("htlad-Inline_Article")){ let prevEl=el.previousElementSibling; if(!prevEl.previousElementSibling.classList.contains("rebellt-ecommerce") && prevEl.previousElementSibling.classList.contains("rebellt-item") &&prevEl.previousElementSibling.classList.contains("col1") && prevEl.previousElementSibling.childElementCount==1 && prevEl.previousElementSibling.querySelector('[data-role="headline"]')){ console.log("ad-div removed for headline"); console.log(prevEl.previousElementSibling); prevEl.previousElementSibling.classList.add("product-headline") prevEl.remove(); } } let isDescPresent=false; let c_el=el.children; for(i=0;i

item.innerHTML='

' })

});

window.REBELMOUSE_ACTIVE_TASKS_QUEUE.push(function(){

let count = 1 window.IcreateElementChangeListener('.listicle-slideshow.listicle-slideshow__init', function (item) {

let slideCountClass = "listicle-slide-" + count; item.classList.add(slideCountClass); IcreateElementChangeListener("." + slideCountClass + " img", function (img) { img.onload = function () { // console.log(item.querySelector('.rebellt-item-media-container').clientHeight+"pxsss"); //item.querySelector('.rebellt-item-media-container').style.height = item.querySelector('.rebellt-item-media-container').clientHeight + "px"; // console.log(item.querySelector('.rebellt-item-media-container').clientHeight+"px"); // item.querySelector('.rebellt-item-media-container').classList.add("fixed") count++; } }); })

});

window.REBELMOUSE_ACTIVE_TASKS_QUEUE.push(function(){

let count=1 window.IcreateElementChangeListener('.wide-image',function(item){ item.closest('.rebellt-item').classList.add('wide-image-col') }) window.IcreateElementChangeListener('.narrow-image',function(item){ item.closest('.rebellt-item').classList.add('narrow-image-col') })

});

window.REBELMOUSE_ACTIVE_TASKS_QUEUE.push(function(){

let count=1 window.IcreateElementChangeListener('.rebellt-ecommerce',function(item){ if(item.querySelector(".rebellt-ecommerce--compare-at-price")){ let prices=item.querySelector(".rebellt-ecommerce--price").innerText.split(" "); if(prices[0]==prices[1]){ item.classList.add("hide-compare-price") } } })

});

window.REBELMOUSE_ACTIVE_TASKS_QUEUE.push(function(){

let options = { rootMargin: '0px 0px 0px 0px' }

function handleIntersection(entries) { entries.map((entry) => { if (entry.isIntersecting) { document.body.classList.add("hide-sticky-ad") } else { document.body.classList.remove("hide-sticky-ad") } }); }

const observer = new IntersectionObserver(handleIntersection,options); IcreateElementChangeListener(".post-page-midfeed",function(item){ observer.observe(item); })

});

window.REBELMOUSE_ACTIVE_TASKS_QUEUE.push(function(){

function handleIntersection(entries) { entries.map((entry) => { if (entry.isIntersecting) { let item=entry.target; let video=item.querySelector(".widget__video"); let image=item.querySelector(".widget__image") if(video && image) { video.innerHTML=video.querySelector('script[type="video-content"]').innerHTML; video.style.display='block'; image.style.display='none'; } observer.unobserve(entry.target); } }); } let count=1 const observer = new IntersectionObserver(handleIntersection);

IcreateElementChangeListener('.mb-2.post--socialux:not(.current--post)',function(item){ observer.observe(item);

})

});

window.REBELMOUSE_ACTIVE_TASKS_QUEUE.push(function(){

REBELMOUSE_STDLIB.createElementChangeListener(".fullscreen-slideshow__top-ads", function(slideshowTop){ let logoClone = document.querySelector('.site-logo').cloneNode(true); slideshowTop.prepend(logoClone); });

});